Featuring the turned art of Chuck Ludwigsen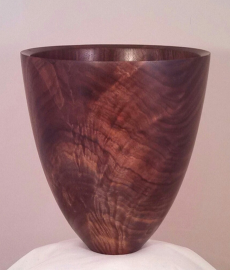 This website is mainly here as a virtual art gallery of the woodturning items I have made and as a a point-of-contact for those wishing to inquire about my work.  I have been a part-time woodturner since 1998 and hope to continue it for quite some time into the future.
Woodturning is a form of wood-working that has become quite popular over the past couple decades - particularly due to a strong community of artists and craftsman who have formed various non-profit clubs and organizations.  While woodturning, and many of forms of woodworking, started from a predominantly utilitarian perspective, the beauty of natural wood and clean form helped to evolve it into a true art form.  Better yet, through that same artistic eye, it continues along both paths of pure and utilitarian art.  While you don't find many woodturners churning out a set of crude plates for the family to use at dinner tonight, you might find an accomplished 'turner' who will hand-craft a perfect set of wood or mixed-material plates or bowls for just that perfect occasion.  On a more practical level, many of us enjoy making a fine, artistic pen or other gift that you can use regularly.
I hope you enjoy the images and descriptions of the bowls, hollow forms, ornaments, pens, and other items I turn from time to time.
~ Chuck